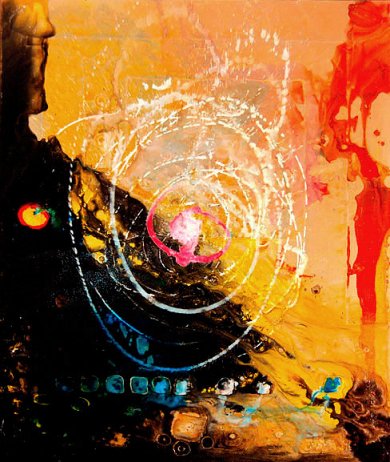 "Letting the River Flow:
Barry Mack's Natural Forces"
Essay by Richard Speer


With tenacity and invention, artist Barry Mack has built a career on the quest to capture and concretize transcendent states. The moment of glorious, blinding epiphany—whether mystical or psychological—intrigues Mack and has long fueled his creative explorations. Working in photography, digital media, and, most prominently, acrylic paint, he has deployed symbolist imagery and motifs culled from myth, geometry, and the collective unconscious, all in the search to visually approximate the inapproximable.

Among his more recent series, Ancient Light presented fantastical vistas that riffed on the relationships between past and future, terrestrial and extraterrestrial, landscape and mindscape. Summer Light followed, formalizing a visual vocabulary that leapt into abstraction via mysterious motifs whose simultaneous simplicity and inscrutability evoked hieroglyphs or runes. The artist stripped this vocabulary down to painting's great constant, light, in the series that followed, Doorways, remarkable in its reductivism and single-minded mission to portray searing moments of transcendence as columns of light. In the line of Caravaggio, Rembrandt, and Turner, Mack used the drama of light to reach out and touch unknowable realms of Platonic ether. After the austerity of this series, there was nowhere to go save back to Aristotelian terra firma—but with sublime knowledge in tow. In Interiors, his highly successful late-summer show at Hood River's Westwind Gallery, he juxtaposed geometric perfection against the organicism of highly textural surfaces.

In his current series, Natural Forces, rather than dictate the pictorial languages those surfaces speak, the painter allows them to adopt whichever tongue their own natures choose. The series is noteworthy for many reasons—the dramatic, geological movement of the paint, the varied and often vibrant color palette—but perhaps most of all for its delicious paradox: Mack is still traveling towards the same horizon he has always sought but is traversing a route that is completely new to him. At the divergence of control and freedom, he is trekking down the latter, a road which, for him, is less traveled—and it is making all the difference.

In certain pieces we see the artist in transition from Doorways. Raising Red features a white-hot light shaft asserting itself toward the top of the painting, emerging from an arid, desert-like semi-circle of paint slathered on with palette knife. Looking Up hails from the same caramel-hued family as the Doorways but emits a more diffused luminescence, tempered by the ooze and flow of paint on canvas.

The painter taps this vein further in works that exploit the repellency and coalescence of diverse media, a technique allying him with contemporary painters such as David Geiser and Matt Lamb. With its dramatic color seepages, Into the Unknown can be interpreted microscopically, as a cell at the moment of division; or astronomically, as nebulae separating or colliding; or in any number of more personal takes. With apologies to Gershwin, the serene High Tide could well be titled Rhapsody in Green, for it is a veritable hymn to verdancy, of green seas dotted blue with tidal pools. Elements shares these aquatic allusions, with its stunning Bahamanian blues cupped by earth tones, like a lagoon on some crescent-beached desert island. The liquidic Sudden Eruption achieves a gorgeous pearlescence, glistening and wet to the eye although dry to the touch. In its pictorial prestidigitation, Dark Opening melds brushwork and organic processes in a way that draws comparison to Native American painter James Lavadour.

Two of the most striking works in the current series are Flow and Clash. They are not transitional, but integrative, bringing together many of the artist's signature elements with invigorating new techniques. Both paintings have underpinnings of the motifs—playful dots, geometric and spermatazoal forms—we are accustomed to seeing in Mack's métier; both works exult in the unrestrained play between materials; but there is a third element at work here as well: a jaunty gesturalism, tantamount to splatter painting, in the lineage of Jackson Pollock and Sam Francis. Flow could not be more exuberant if it tried, its blues ranging from inky blue-black to ultramarine to cerulean, its luscious lime greens and decadent but well-placed dollop of hot pink enlivening an intuitive composition.

Clash feels very much like a summa of where the artist has been and where he might be going. Atop an understructure of concentric rectangles and Summer Light-like circuits, rivers of paint ebb and eddy, properly weighted black towards the bottom, lighter as the diagonally bisected composition ascends. Over this backdrop's Earth-mother ooze, a spectacular masculine gesture spirals and splatters, milky white, and yet it is a quieter progression at the painting's base that yields the work's most affecting passage. Out of the surrounding darkness, nine squarish forms emerge, grading from black to brilliant blue from left to right, reaching in the prime of their middle a turquoise of almost unbearable richness. As they continue rightward, losing definition, the blues blanch out to white, the rhythm of their locomotion more irregular, a dramatic gap finally cutting the penultimate form off from all that preceded. At this point, inexplicably, a final shape—blue again but infused with a mysterious green nucleus—emerges on the other side of the breach, propelled by a flagellum of seeping color. It would be a cold heart and a literal mind that did not read this progression on some level as a journey from pre-existence to life to death to whatever, if anything, lies beyond. The great cycle, which paganisms, monotheisms, and the sciences have all devoted tomes to, Mack is able to encapsulate in a sequence of nine shapes. And this is only a single element of a painting in which at least four other major processes are unfolding. Poignant and ambitious, the piece is a work of dazzling virtuosity.

Despite his agility in pivoting between media and modes, never before has Barry Mack given himself over so completely to the spontaneous interaction of materials with the intuition of the painterly gesture. In Natural Forces he allows these elements to play their own duet, with himself an unseen conductor, marrying muse and mind in dynamic harmony. The painter's friend, artist Astrid Fitzgerald, recently remarked on the new series with spot-on insight. In loosening his grip but retaining his focus, she intuited, Mack had embraced an age-old dictum: "Don't push the river—it flows by itself."

—Richard Speer is a contributing critic at ARTnews and is Visual Arts Critic at Willamette Week, the Pulitzer Prize-winning alternative newsweekly in Portland, Oregon. The author of the biography "Matt Lamb: The Art of Success" (John Wiley & Sons, 2005), he is also a contributor to Newsweek, The Los Angeles Times, The Sacramento News & Review, Salon, and Opera News. For more information, visit www.RichardSpeer.com.