Tsilli Pines at Ogle (Portland)
Aug 2008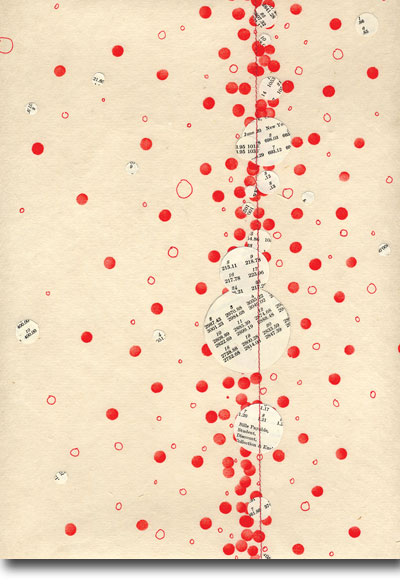 PORTLAND
Tsilli Pines at Ogle

In her debut at Ogle, Tsilli Pines conjures an intimate jewel box of a show, resplendent with tiny pearls (most pieces are 10 by 17 inches) that impress without preening. Comprised of pigment and found objects on rice paper, the works are variations on a sparing, meticulous theme, their elements positioned in rhythmic compositions of cut paper: some abstract, some semi-abstract, a few figurative, all carried off with a quiet, winning elegance. Pines carries a graphic design sensibility into the works, dispersing paper circles and red dots in works such as Compounding, with its duet between verticality and diffusion, and Balloon Payments, while packing the dots more densely in In the Red. The titles—as well as the red-and-black color palette—reflect the artist's interest in the roles of numbers and money in everyday life. Notably, much of the found paper is from old accounting ledgers and check balance books. In pivoting piece to piece between dispersal and compactness, the works give the impression of breathing, or of expanding and contracting like an animal—or the stock market.

In Risk Tolerance, cut-out circles are connected by cotton thread, imparting a more literal feel without devolving into preciousness. Other pieces suggest sunrays (Annual Report, Bottom Line, and Piece of the Pie), flowers (Fruit of our Labor), root systems (Leveraged and Profit and Loss), Emmentaler cheese (Missing Assets and Cutting Losses), and the music of the spheres (Bad Credit), with the thread sometimes loose and sometimes sewn. Despite their clichéd and perhaps overreaching titles, there is something about the daintiness of the imagery and fastidiousness of execution that whispers of feminist critique and the resurgent craft movement. Indeed, Pines' artist statement invokes the disparity between sewing thread as a traditionally feminine medium and the historically male-dominated fields of accounting and finance, with which this body of work is concerned. That the show succeeds in illuminating this disparity in a way that is neither strident nor patronizing is a testament to the visual and conceptual elegance she is able to condense into a minimum of chromatic and material components.