Surprising Idaho
Dec 2008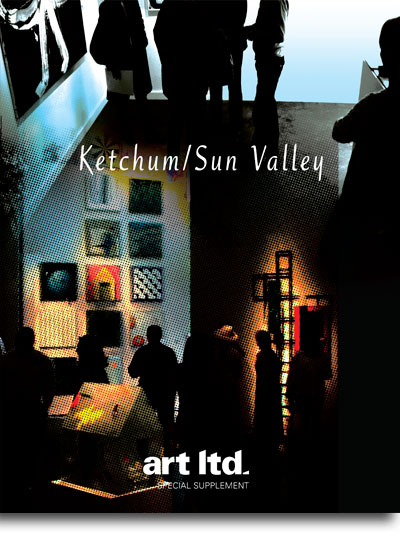 The air in glamorous Sun Valley/Ketchum, Idaho (elevation 5,945 feet) isn't the only thing that's rarefied. So is the cultural atmosphere, the high-end real estate market, and the well-heeled, well-educated clientele who patronize the valley's top-flight art galleries. While Sun Valley, home of the eponymous ski resort, and nearby Ketchum, the area's commercial and cultural hub, have a combined population of only 4,678 residents, the art offerings here never fail to exceed expectations. Even a brief visit will confirm that this is no backwater, kitschy resort town, nor even a repository of stodgy, old-money hauteur. Savvy visitors and part-time residents who own second or third homes here are treated not only to the traditional and regional work one would expect in a historic western town, but also, notably, to a panoply of modern and contemporary artists that would be the envy of any gallery's roster anywhere: from Pablo Picasso, Françoise Gilot, Marc Chagall and Morris Graves, to Andy Warhol, Frank Lobdell, Jun Kaneko and a constellation of trend-setting emerging artists on the rise in Los Angeles, New York, London, and Berlin.

Masterworks by these and other artists are being snatched up (yes, even in the economic downturn) by jet-setters and "the locals," who include California governor Arnold Schwarzenegger and wife Maria Shriver, Senator John Kerry and Teresa Heinz Kerry, actors Clint Eastwood, Jamie Lee Curtis, and Tom Hanks, and Las Vegas hotelier Steve Wynn, to name only a few. This formidable collector base and the cultural engine that sustains it, did not materialize overnight. It is the product of an organic fermentation reaching back 30 years, synthesizing infrastructure, community, and an aesthetic clout—born of love and integrity over time—that money alone cannot buy.

Any discussion of Ketchum's art scene tends to begin with Gail Severn, a fifth-generation Idahoan whose ancestors came here in covered wagons. With her encyclopedic knowledge of the region's history, geology, ecology, and horticulture, she represents in many ways the soul, conscience, and ambition of this valley. The Gail Severn Gallery opened in 1977 with 250 square feet of exhibition space. Today it's housed in a spectacular customized showplace, built in 1999, with 11,000 square feet for exhibition and a 22-by-20-foot door to enable cranes and forklifts to move monumental artwork in and out. Among the dozens of artists the gallery represents are photographers Alan Finneran, Laura McPhee; and Luis Gonzalez Palma; abstract expressionist Gary Komarin; conceptual artists Donald and Era Farnsworth; multi-media artist Mario Reis; ceramic sculptor Jun Kaneko; and the estate of Morris Graves. The gallery also has a sculpture garden off-premises, where collectors can view work in situ.

The Anne Reed Gallery, open since 1981, owes much of its viewpoint, energy, and class to owner Anne Reed herself. Reed insists on conceptual rigor among her artists; the pursuit of beauty for its own sake is not something that interests her. "I'm looking for distinctive voices," she says. "I'm not just interested in a pretty painting that doesn't say anything beyond that." Reed, herself a notable photographer, travels widely and is passionate about issues of global sociopolitical significance. Visit the gallery and you're likely to encounter Miya Ando's serene meditations on the eternal horizon; Alex Zecca's obsessive ballpoint-pen drawings; contemporary photographers Andrew Moore and Mathias Kessler; Oakland artist Yvette Molina; paintings by established masters like Frank Lobdell; and large-scale works on view in the sculpture garden and gallery by artists including Fletcher Benton and Manuel Neri.

Friesen Gallery director Andria Friesen is an animated, intense personality, which informs every aspect of programming at the gallery and its sister gallery in Seattle. With a season that hits its peak during two periods (the summer season roughly from July 4th to Labor Day; winter season from Christmas to early April), the imperative to wow gallery-goers with top-flight work never leaves Friesen's mind. Recent shows have included are a collaborative installation between Dennis Evans and Nancy Mee, paintings by Portland, Oregon-based painter Gregory Grenon, and a stunning exhibition by glass maestro Lino Tagliapietra. The gallery also features the work of Larry Fodor, Mark Rediske and Dennis Evans. Above and beyond what the artists themselves bring to the table, Friesen says she is indebted to "the magic of Sun Valley itself: the way it affects everything about you when you come here—your posture, your breathing, your cadence... It's a great environment to sell art in: Mother Nature does half your work for you."

The beauty of nature and the history of the Wild West is never far away in Sun Valley. Kneeland Gallery highlights contemporary artists from western states who deal with western themes. Painter Thom Ross updates traditional Native American motifs with a contemporary approach, incorporating mixed media into his acrylics on canvas. Dave McGary, whose painted and patina bronze sculptures of Native American scenes have their own display room in thisspacious gallery. Jane Wooster Scott works in an idiomatic folk art tradition, while Andrzej Skorut offers a fresh take on landscape, his elemental compositions informed by his years as an abstract and semi-abstract painter. Interestingly, Kneeland, which works closely with a coterie of well-known home decorators, enjoys a far-flung client base, with roughly half of all work sold here being shipped out of state.

Broschofsky Galleries' strategy is to bridge the gap between the historic West, the mythologized West of literature and Hollywood, and the contemporary West. Examples include Andy Warhol's "Cowboys and Indians," many prints and trial proofs of which were on view during a recent visit; formally challenging and symbolically rich sculpture by Bill Barrett and J.C. Dye; Russell Chathan's paintings, with their luscious surfaces and muted colors; Jan Grotenbreg's concrete-and-acrylic works on canvas; and abstract pièces de résistance by the late painter William Lumpkins, whose career spanned from the 1920s to the 1990s, and who was a veritable institution in his beloved Santa Fe, New Mexico.

Frederic Boloix Fine Arts takes a more international approach in its programming, born of gallery director Frederic Boloix' worldly upbringing and interests. Born in Cuba as a Spanish citizen, Boloix was for many years a classical trombonist who lived in Munich, Vienna, Miami, and San Francisco. He moved to Sun Valley 14 years ago but retains clients from around the world. "When I get a piece in that I really like," he says, "I'll lie awake at 3 in the morning and say, 'I've got to call this person or that person halfway around the world, because it's perfect for them!" The gallery offers prints, paintings, and works on paper by artists including Pablo Picasso, Marc Chagall, Françoise Gilot, and contemporary phenomenons such as Seville-based artist Salustiano, known for his enigmatic, obsessively layered portraits in deeply saturated red.

Husband-and-wife team Michael Carpenter and Robin Reiners also bring their travels back to Sun Valley, scouting out talented artists around the world and tirelessly advocating their work. During a visit to Spain, they saw the paintings of Agusti Puig, fell in love with the work, and made arrangements to show his work in Sun Valley. This was before Puig became world-famous when his paintings were prominently featured in the 2008 Woody Allen film, Vicky Cristina Barcelona. Other international artists exhibited at Gallery DeNovo include Greek painter and sculptor Philip Tsiaras; Spanish painter Quim Bové; Spanish sculptor Marta Moreu; Dutch-born, Barcelona-based painter Rein de Lege; and Jian Bing Nie, whose work superimposes Chinese acupuncture meridians atop Renaissance-style portraits as an exploration of East-West cultural mélange.

With an expansive new space, Gilman Contemporary specializes in emerging and mid-career artists whose careers are taking off nationally and internationally. One of the most intriguing of these is David Burdeny, whose time-release photographs of Antarctic icebergs have a dramatically exaggerated horizontality and a depth of field so prodigious, they appear almost 3D. Other artists include Alex Couwenberg, whose constructivist-meets-minimalist compositions finesse negative space; Robert Atwell, whose enamel works on aluminum panel have a winning graphic simplicity; and Jared Rue, with his elegant organic reveries on vegetal motifs, silhouetted and glowing with otherworldly sfumato.

An important part of the area's cultural life is the Sun Valley Center for the Arts, a nonprofit founded in 1971 to boost arts education in the valley. The Center will soon break ground on a new facility, slated to open in early 2011, which will increase exhibition space from the current 500 square feet to 3,500. Programming has been expanded to include visual arts, performance, a summer art camp, and a lecture series that brings in luminaries from around the world (Gloria Steinem recently lectured). The Center raises a full 60-percent of its $2-million operating budget in one night, at a gala wine auction that is a highlight of the Ketchum social season. With oenophiles bidding on rare wines from around the world, prices for single bottles of wine sometimes reach five figures. Curatorially, the Center's programming schedule of six exhibitions per year tends toward the challenging and conceptually rigorous but always accessible, thanks to visual arts curator Courtney Gilbert. "We get a lot of tourists," Gilbert says, "but the bulk of our visitors are locals. We have groups of children coming in, but we also have out-of-towners who are super-knowledgeable about conceptual art—people who moved here from major cities, miss the art there, and come to the Center to get a taste of it again."

The city of Ketchum and the Sun Valley/Ketchum Chamber and Visitor's Bureau have worked in concert to boost the area's arts profile locally and nationally. The 27-year-old Sun Valley Gallery Association, comprised of eight member galleries plus the Sun Valley Center, hosts nine gallery walks per year. There is a long-term civic plan to widen key sidewalks in the city, with raised plinths where artwork will be displayed, plus a public sculpture showcase. These long-term investments in the arts stand in opposition to current vicissitudes in the stock market and economy. Robin Reiners, director of Gallery DeNovo, is optimistic in spite of the economic downturn: "In general, our economy here is doing well. For example, our Cynthia Fusillo exhibition opened with close to half of the works sold prior to the opening, and another three sold on opening night. So I believe if we continue to have strong shows, our clients will continue
to support us."

Carol Waller of the Chamber and Visitor's Bureau concedes that there is "no doubt that some portions of our business have been affected by the economic situation," but adds that "Sun Valley is still a great value as a destination, with a loyal following... We have one of the highest visitor return rates of any mountain resort destination in the U.S., and our fine-art offerings are an important part of that. It's an incredibly special place—and once you've been here, you'll understand."

—The author of "Matt Lamb: The Art of Success" (John Wiley & Sons), Richard Speer is a regular contributor to ARTnews, Digital Photo Pro, and Opera News. He is visual arts critic at Willamette Week, the Pulitzer Prize-winning alternative weekly in Portland, Oregon.

To download a PDF of the Idaho Supplement, please click here.