paradoxical portland
Feb 2007 by richard speer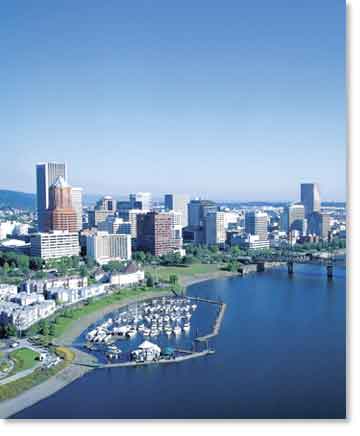 Simultaneously laid back and hyper-caffeinated, Portland, Oregon, is a paradox, and so is its art scene. The city's logging-hub past (it was once known as "Stumptown") is never too far from the surface, and counterculture vibes linger from the Sixties, when Ken Kesey and his Merry Band of Pranksters haunted the streets on mischief-making missions from Eugene, their home base in central Oregon. Flannel shirts and granola-noshing longhairs are still a common sight here, especially on groovy Hawthorne Boulevard. But Portland today is equally known as a high-tech and corporate haven—both Intel and Nike have campuses in nearby Beaverton, and the increasingly yuppified area is often called "The Silicon Forest." This odd, hippie-meets-hipster mélange gives Portland and its artistic habitués considerable charm and a creative-class caché that is attracting increasing national attention.
Situated halfway between the Cascade Mountains and the Pacific Ocean, Portland is bisected east to west by the Willamette River, a tributary of the Columbia. North to south, the city is divided by Burnside Street, which, along with the river, quarters the city into quadrants, each neighborhood with its own flavor. Northwest Portland, with its trendy, loft-filled Pearl District and colorful Chinatown, is the city's artistic nexus, home of nearly all its most prestigious galleries. The Southwest quadrant, which contains the city's downtown, is less artsy, more business-centered, but does play host to several important galleries as well as the Portland Art Museum, situated on a stretch of statuary-punctuated greenery known as the Southwest Park Blocks. Northeast Portland, to the delight of developers but the dismay of community activists, is a rapidly gentrifying area whose increased residential appeal is due in no small part to the cultural currency imparted by galleries, restaurants and shops that have sprung up on Alberta Street. The funky Southeast quadrant is home to everything organic, hempy and holistic; art venues here tend toward collectively owned, multi-use spaces.
Notably, the city marks its monthly arts calendar by quadrant. Many cities have a monthly art walk, when galleries break out the brie and Chardonnay and stay open late to welcome gallery-hoppers, but Portland has three: one in Northwest, one in Southeast, and one in Northeast. The most ambitious and widely attended of this trio is the Pearl District's "First Thursday," sponsored by a junto of 11 gallerists who operate under the auspices of pricepoints, catering to a more free-wheeling, less buttoned-down crowd. Skipping ahead to the end of the month, "Last Thursday," sponsored by the nonprofit Art on Alberta, serves as an even more gonzo antipode to the Pearl's First Thursday. Anchored by four serious galleries—Guardino, Office, Talisman, and Onda Arte Latina—on Northeast Alberta, Last Thursday crackles with a Burning Man-esque energy, firedancers and stilt walkers crowding alongside artists selling their wares on the sidewalks. While each of these art walks caters to a distinct crowd, there is a remarkable cross-pollination between the three, with many Portlanders attending each walk, each and every month.
This level of cultural commitment isn't terribly surprising in a proudly leftist enclave abounding with avid readers (Powell's City of Books is the local bookstore of choice) and equally avid art lovers. The city spills over with artists, curators, and aesthetic armchair quarterbacks who love to look at, think about, talk about, and often argue about art. A spirited ongoing conversation exists among Portland's four art critics, two radio art-show hosts, and a half-dozen art bloggers. A Web site called PORT (www.PortlandArt.net) ties these observers together, with 20,000 readers per month logging on to dish on the latest artistic causes scandale. The fashion and design web-zine Ultra (www.UltraPDX.com) also updates regularly with visual-art recommendations. Among these multi-media constituencies the most common topic is a solipsistic one shared by nearly all regional art hubs: Where does the city stand in the national art scene, and what does it need in order to become more prominent?
If there is a consensus answer to these questions, it seems to be this: Portland is actively competing with Seattle for bragging rights as the third-most-vital West Coast art city, behind Los Angeles and San Francisco. What is needed in order to "kick it up a notch" is a savvier collector base with deeper pockets and greater passion for contemporary art. Navel-gazing aside, Portland has come a long way since its incorporation in 1851. Gone are the days when Northwest art could be pigeonholed as a litany of snow-capped Mount Hood vistas or seascapes of the craggy Oregon Coast. Today, Portland artists working abstractly and figuratively in myriad media—and the gallerists who represent them—are making their presence known on the national scene. Local artists such as Harrell Fletcher, a Whitney Biennial veteran, and Chris Johanson, exhibited in Nova, a showcase that was part of last December's Art Basel Miami Beach. Bruce Conkle installed one of his melting-snowman sculptures at Scope, a satellite show to Art Basel. The Elizabeth Leach Gallery, Motel Gallery, and Small A Projects all had spaces at the Aqua Art Fair, while PDX Gallery exhibited at Flow. Portland plays host to its own national art fair, AFFAIR @ The Jupiter Hotel, organized by curators Stuart Horodner and Laurel Gitlen. Attracting galleries from cities such as New York, Chicago, Boston, Atlanta, and Toronto in addition to Portland, the three-day AFFAIR will mount its fourth annual endeavor this fall.

Then there is the Portland Art Museum, the Northwest's oldest museum, founded in 1892. Host not only to a first-rate collection of the requisite Northwest totems and Haida masks, PAM also offers a programming outreach that includes both touring mega shows like "Treasures of Ancient Egypt: The Quest for Immortality" (showing through March 4) and more avant-garde fare like Damien Hirst's "Four Works from the Broad Foundation" (showing through April 22). Modern and contemporary works are displayed in a gleaming new space, the 28,000-square-foot Jubitz Center, completed in late 2005. A former Masonic temple invigoratingly redesigned by Boston's Ann Beha Architects, the Center is home to standout pieces from the museum's permanent collection: works by Claude Monet, Paul Cézanne, Henry Moore, and Frank Stella, as well as a gorgeous Brancusi bronze and a late-1980s Jules Olitski (Noble Regard) that looks rather like an Abstract Expressionist recipe for Baked Alaska. The Center also displays works culled from the 159 pieces encompassed by the Clement Greenberg Collection, acquired by the museum in 2000. Under curator Jennifer Gately, the museum mounted its 2006 Biennial last year, a well-received expo that managed to tip its hat to up-and-comers like multi-media wunderkind Chandra Bocci, mid-career innovators such as Matthew Picton, and stalwart war horses like painter Lucinda Parker. Modern and contemporary curator Bruce Guenther's national reputation—his past curatorships included Chicago's Museum of Contemporary Art, Seattle Art Museum, and the Orange County Museum of Art—have served him well in brokering new acquisitions, including the museum's mid-January purchase (for $1 million) of Robert Rauschenberg's sculptural assemblage, Patrician Barnacle.

An acronymic bevy of educational and nonprofit institutions fill gaps the museum is too monolithic to address. The Portland Institute for Contemporary Art (PICA) has brought in installations by the likes of Marina Abramovic, William Pope.L, and Tony Tasset and mounts the annual Time-based Art (TBA) Fest, which includes an appreciable visual-art presence. The Portland Art Center (PAC), headquartered in a 10,000-square-foot warehouse space in the city's historic Chinatown, is an increasingly polished and reliable venue for outstanding installations; last November PAC hosted Croatian artist Viktor Popovic, who constructed an untitled riot of interlocked chairs and fluorescent lights. Fledgling but ambitious, the arts group Disjecta does not deliver as consistently as PAC but manages to put on an intriguing group show once a season or so. New nonprofit-on-the-block Organism is headed by multi-talented impresario and critic Jeff Jahn, who kicked off programming last summer with a video installation by Swiss artist Pipilotti Rist, accompanied by experimental music performed live by the Dandy Warhols, Portland's resident big-time rock band. Marylhurst College curates reliably engaging solo and group shows in an echoing, high-ceilinged space aptly known as "The Art Gym," while Portland State University (PSU), Portland Community College (PCC), Art Institute of Portland, Pacific Northwest College of Art (PNCA), and Oregon College of Art & Craft (OCAC) offer rotating shows as adjuncts to their instructional programs.

These manifold institutions and their noblesse oblige notwithstanding, Portland is ultimately more a bottom-up art town than a trickle-down one. There is a fermentation in the city's edgiest art spaces that buoys young artists with an effervescence and upward mobility. Painter James Boulton, now 31, began showing his work six years ago in the scrappy Everett Station Lofts, a petri dish for artistic experimentation located in Northwest Portland's Chinatown. His hyperkinetic abstracts attracted the attention of curator Bruce Guenther at Portland Art Museum, who tapped the artist for a spot in the 2003 Biennial. Soon thereafter Boulton was picked up by the blue-chip Pulliam Deffenbaugh Gallery; solo shows and respectable sales ensued, and now the artist is living and painting in Los Angeles, returning for shows every other year. Painters Corey Smith and Scott Wayne Indiana, respectively known for their pop-culture vignettes and sophisticated abstraction, number among the Lofts' other success stories. Turnaround is high at the Lofts—a few galleries put down roots, but many are fly-by-night—but current First-Thursday must-sees include Rake Gallery, Zeitgeist, Tilt, and Sugar Gallery, which in recent months has shown deliciously seedy portraits by Brooklyn photographers Elizabeth Weinberg and Peter Beste.

In this polyglot aesthetic culture, several local galleries have concentrated on finding and filling niches. Bullseye Gallery specializes in glass; Compound in anime-influenced work; Quality Pictures, Blue Sky, and Newspace in photography; Pushdot in digital art; Chambers and Froelick in Northwest abstract and figurative work; and the 3-D Center in stereoscopic presentations. Arts collectives such as Blackfish, Talisman, and Rake mount monthly solo and group shows by artists from within and without their ranks. Several galleries do double or even triple duty as multi-use spaces: Ogle specializes in conceptual and installation art but also has an optometrist on staff and sells high-end eyewear—presumably so collectors can more clearly see the art! Backspace, an online gaming parlor, also features well-curated shows of multimedia work by emerging talents. Goodfoot Lounge is primarily a bar and pool hall but also organizes regularly rotating shows by lowbrow and self-taught artists. Finally, Launch Pad's space in Southeast Portland houses studios for the fashion collective The Egg but doubles as a deejay-staffed art venue for art viewing and opening-night techno dancing.

Among more conventional galleries, Elizabeth Leach's eponymous gallery is arguably the city's most august. In business for 25 years, Leach's stable includes heavy hitters including Louise Bourgeois, Robert Rauschenberg, and Kiki Smith. Pulliam Deffenbaugh Gallery's co-owners, Rod Pulliam and MaryAnn Deffenbaugh, are respected for their superb eye for bold abstraction, while PDX Gallery's Jane Beebe is known for her penchant for what she terms "quiet art" of a more conceptual bent. Portland institution and all-around character Mark Woolley has made a name for his gallery by showing daring outings such as painter/poet Walt Curtis' fancifully randy tableaux and photographer Marne Lucas' saucy pinup girls and beefcake boys. At Augen Gallery, veteran dealer Bob Kochs combines an expertise in vintage Pop Art prints with an eye for contemporary talents like LoriAnn Latremouille and Eva Lake. Butters Gallery's Jeff Butters has an unfailing eye for abstraction and semi-abstraction and has curated dazzling shows by New York painters David Geiser and Juri Morioka and Santa Fe's Michael Kessler. Finally, the Laura Russo Gallery focuses on late-career regionalist painters such as Henk Pander and Lucinda Parker and represents the estates of Northwest greats such as Louis Bunce and Carl Morris, the well-known Abstract Impressionist painter who called Portland home for more than 40 years.

Historic and cutting-edge, upscale and downrent, Portland's contrasts give its art scene a unique electricity virtually unique on the West Coast. Traipsing across its rain-slicked avenues on art walks, en route to art spaces ranging from sophisticated to sketchy, one feels a pleasant discombobulation, induced by blurred borders and upended hierarchies. Where are the gatekeepers, where does gallery end and dance club/fashion studio/gameroom begin, and at what point does an emerging artist become an established star? Portlanders don't try to answer these unanswerables; they just keep walking through the gentle rain, gallery guide in hand.

Feb 2007 by richard speer