Jacqueline Ehlis at New American Art Union (Portland)
Aug 2008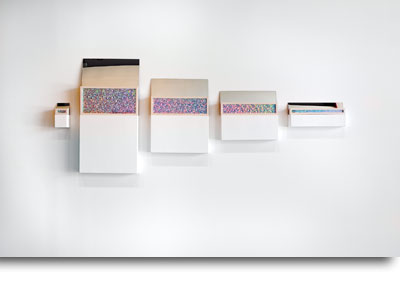 PORTLAND
Jacqueline Ehlis at New American Art Union

That Jacqueline Ehlis is a Dave Hickey protégée is not a Rosetta Stone to her work, but it's a good start. Sure, Ehlis' work exudes the brand of exuberant abstraction that her former professor at UNLV tenaciously champions (Hickey recently curated Ehlis into his "Las Vegas Diaspora" traveling exhibition), but in "Serenade," her first solo show at New American Art Union, Ehlis proved that her shiny, glinting creations are more than just eye candy. With its winning wit and fastidious execution, the show was an exercise in tarted-up deconstruction, equally unafraid of beauty or provocation.

Many of the works in the show riffed on the idea of blurring distinctions between media. In the triptych, Flush, Poise, and Immerse, scrolls of primary-colored construction paper unfurled into polished aluminum wave shapes, which projected sculpturally into the room. Beneath these forms hung canvases that were blank except for a single strip of color on each edge; in turn, the canvases were mounted on sheets of steel visible only from the side. The use of construction paper imparted an evolutionary feel, as if a kindergarten drawing class had quantum-leapt into a master metalworker's studio. In Cinema of the Blushing Skin, the artist projected semi-abstract photographs onto three canvases, each subdivided into three vertical planes of differing finishes. The left side of each canvas was painted DayGlo colors—fluorescent yellow, fuchsia, and blue—which cast ghostly chromatic echoes onto the walls behind them, transgressing the canvases' borders and, in a favorite Ehlis motif, subtly invading the viewer's personal space.

Essentially minimalist and deconstructive, Serenade avoided over-earnestness via the works' Pop colors and juxtaposition of lowbrow materials and "finish fetish" finesse. This confluence came through most clearly in Delightful Exaltations, in which sheets of sparkly vinyl paper—the sort used in baseball cards and novelty stickers—were drolly presented in wooden frames, vertically sandwiched between blank canvases below and mirrors above. Cagey stuff indeed: the blank canvases offered no content; the framed pieces gave only the ephemera of the cheap thrill; and, at the top, the mirror implicated and invited the viewer to reflect, literally, on whether "content" is necessary in an era of froth and flash.