young at art: 15 artists under 35
May 2008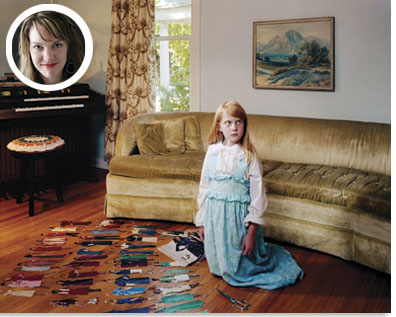 Holly Andres, Portland
"Fiona 2"
2006
Full Crystal Archive Print
31" x 39" Edition of 8
Photo: Courtesy of Quality Pictures, OR.

Multi-media artist Holly Andres knows what David Lynch knows: that small-town American life belongs more to Norman Bates than Norman Rockwell. The Portland, Oregon-based Andres specializes in tableaux of family dysfunction that illuminate the sinister side of Main Street, U.S.A. Now 30, Andres was born and raised in Missoula, Montana, a town in which tensions between old-timers and liberal-leaning college students collided in an environment Andres found deeply unsettling. This unease was the backdrop for her upbringing on a self-sustaining farm outside town, the youngest of ten children in a strict Catholic family. Her siblings' sometimes cruel pranks, along with her mother's untimely death from Lou Gehrig's disease, added to the dark autobiographical undercurrents she currently mines in her work.

Her breakthrough series, Stories from a Short Street, put her on the map in Portland, where she earned her MFA, and earned the attentions of collectors outside the Northwest. These "psychological portraits," the artist explains, present "a fictitious group of kids loosely based on my own family." The series sprang from a hypnotherapy session she underwent in 2006 to confront her fear of flying. During the session, she says, she regressed to childhood, reliving in excruciating detail a traumatic episode—her parents' discovery of lice in her hair—that happened when she was seven: "I felt deeply ashamed and ostracized—my family was running around boiling everything we owned... Looking back on it after I was hypnotized, I remember thinking, 'Wow, it would be interesting to recreate those moments in a photograph.'"

To that end she recruited a cast of children and staged them in a photograph called Fiona I. Intensely personal, the photo was an act of pathos and exorcism, providing closure but also spurring her into deeper psychological waters. Works in this and other series have been exhibited at art spaces including DNJ Gallery in Los Angeles and Quality Pictures Contemporary Art in Portland, Oregon, where she will have a solo show in June. Quality Pictures owner Erik Schneider says he responds "to how visually bracing the works are... They're hyper-cinematic and have a feel that's both contemporary and retro. We showed an image of hers at Aqua [Miami Beach] in December, and it was a big hit."

Working with a large-format 4x5 view camera, Andres elaborately stages her shots, stocking room-sized installations with customized props, wallpaper, and other set dressings in the manner of Carlos and Jason Sanchez or Gregory Crewdson. She often employs dramatic lighting effects, gleaned from studying Hitchcock films and horror movies such as Rosemary's Baby. Her next body of work finds her leaving childhood for the even more anxiety-prone territory of adolescence, in a series based on Nancy Drew and Hardy Boys mysteries. Mirrors, chrome flashlights, and open-doored bird cages number among the props in these slightly more playful works, and although Andres says she delights in staging ever more elaborate tableaux, she says she wants to do it with a lighter hand. "I've always been pretty deliberate in my work," she observes. "Now I'm trying to relinquish some of that control and let the work be looser."

Holly Andres will have a show at Quality Pictures Contemporary Art from June 5 - July 26, 2008. 916 NW Hoyt, Portland, OR. (503) 227-5060 www.qpca.com.