Portland: Eco-Art Central
Mar 2009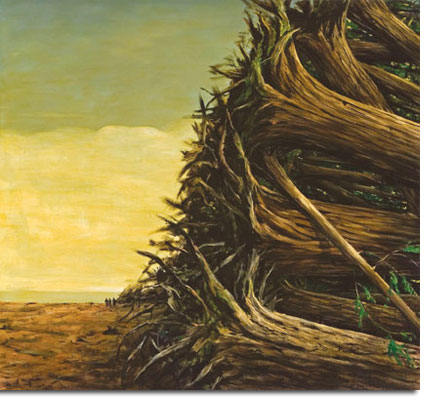 The ideas clustering around the burgeoning "eco-art" movement (sustainability, repurposing, recycling, reducing carbon footprints) have an earnestness about them that flies in the face of the more glamorous values (camp, transgression, transcendence, pathos) that have lorded over the art world in recent times. And yet today, artists who celebrate the natural environment--and offer cautionary visions of its future--find themselves at the white-hot epicenter of aesthetic fashion. This is particularly the case in the American West, and even more particularly in the Pacific Northwest, which has long attracted trailblazers, conservationists, composters, folkies, free-lovers, patchouli enthusiasts, and proud, tree-hugging nature freaks of sundry stripes. Portland, Oregon is centrally positioned, quite literally, to encompass the parameters of the nascent movement. Not only does the city sit on the 45th parallel North, halfway between the equator and the North Pole, it is also situated halfway between the Pacific Ocean to the west and towering Mount Hood to the east, smack-dab in the middle of disparate ecospheres in all four directions.

Aesthetically, Oregon's nature-revering Native American traditions cast a long shadow in Portland, as do the more conflicted influences of the Lewis and Clark expedition, the pioneer migrations along the Oregon Trail, and the pervasiveness of the logging industry (in the mid-1800s, Portland was nicknamed "Stumptown"). In more recent history, the proto-green, back-to-the-land hippie movement shaped the area's ethos, perhaps best personified by late author Ken Kesey, who, at the end of the turbulent 1960s, settled with his family in the bucolic farmlands of the Willamette Valley. Today, as national media are quick to report, Portland leads the U.S. in "green-living" indexes, and Portlanders have become poster children for urban growth boundaries, public transportation, cycling, recycling, and green architecture (local architecture and design stars include Brad Cloepfil of Allied Works Architecture, John Holmes and Jeffrey Stuhr of Holst Architecture, and Kevin Cavanaugh of TENPOD). From this ferment, the city's current troupe of eco-artists emerges: some celebrating nature, others deifying it, still others foretelling environmental apocalypse or renaissance.

To try to follow Impressionist Childe Hassam's orgastic vistas of Mount Hood and the Oregon Coast would be an assignment equally impossible and pointless. Contemporary painters know they are wiser to explore the landscape not as an end in itself but as a vehicle through which to tell stories--among them, ecological ones. Dan Attoe lives in a cabin in Washington State, is on the faculty of Portland State University, and is represented by Los Angeles-based Peres Projects. His drawings and paintings of rural life and deep, vaguely sinister woodlands portray a nature rife with mystery and foreboding. "Seeing dramatic landscapes, forests, and animals are experiences that inform the subject matter of my work," he says. "The strain of our need on natural resources, and our responsibility to maintain our environment... are often at the root of the angst I'm expressing in my art. I don't feel like I need to devote my work to the salvation of the environment, but maybe what I'm doing is attempting to find a sustainable relationship between the complex animals that we ourselves are and the environment we inhabit."

Like Attoe, painter Michael Brophy does not make explicitly political work, but renders the Oregon landscape in a straightforward, deceptively naive style. Unlike Attoe's dense, spookily claustrophobic visions, Brophy's paintings tend toward spare Eastern Oregon desertscapes, in which barren, deforested slopes speak to the technological exploitation of the land. James Lavadour, perhaps Oregon's most celebrated contemporary painter, lives on the Umatilla Indian Reservation and takes a semi-abstract approach to landscape, painting in quick gestures that often read as mountains on fire. In works like Yellow Fire, Under Fire, and Smoke (all 2008), Lavadour seems to telegraph alarm at the breakneck pace of environmental destruction.

A neo-transcendentalist strain of eco-art posits nature as divine and humans, at their best, woven into nature's tapestry. Lori-Ann Latremouille, who lives in Vancouver, B.C., and has long shown with Augen Gallery in Portland, creates rapturous charcoal drawings of men and women entwined with flowers, cacti, fishes, dolphins, crustaceans, and other creatures of land and sea. With a sensibility halfway between the Animal Planet Channel and the Playboy Channel, Latremouille imbues her tableaux with a swoony sensuality that is carnal yet pristine, in the tradition of the great primitivist Henri Rousseau. Rick Bartow, a member of the Wiyot Tribe of Northern California, also portrays moments of symbolic connection between animals and human beings. In Bartow's work, exhibited at Froelick Gallery, there is an added fluidity between the natural and spirit world: Men morph into wolves, women become eagles, and both genders transform into hybrids at the intersection of material and ethereal.

Artist Marne Lucas is also interested in the union of man and nature--or, more often, woman and nature. In her ongoing self-portrait series, she reaches for and often attains a quasi-mystical melding of subject matter--herself as stylized earth mother--and her natural surroundings. In Lichen Anklepanties, clad only in an inscrutable fungal undergarment, she opens herself to a great, moss-covered tree, a vision of impregnation that is wryly, if obviously, metaphoric: phallic verticality bisecting recumbent soil as the tree, with its cones and seeds, implants new life into fertile ground.

The conceit of the Northwest as an ecological Shangri-La (witness the title of painter Laura Ross-Paul's 2008 show at Froelick, Northwestopia) extends materially to the root of the sylvan landscape itself, in the ways in which artists employ wood and other natural materials. Traditional native masks and carved panels are still painstakingly crafted in the region, showcased in Portland galleries such as Quintana alongside carved and painted work in contemporary designs. At Laura Russo, Tom Cramer marries swirling Op Art patterns with folk and East Indian traditions in his carved wooden panels, with their paint-filled crannies and resplendent metal-leaf surfaces. At Elizabeth Leach, Joe Thurston transfigures wood panel into relief paintings indebted equally to splatter painting and Pop Art.

Meantime, artist Jeff Jahn uses sand from coastal beaches to sculpt Dr. Seuss-like sand castles that speak both to the ecosphere's sublimity and impermanence. Jahn's wooden sculpture, Where we go from here, exhibited at New American Art Union, looks like a mutant palmetto frond crossed with an overgrown green spider. The work reflects Jahn's view of Portland as "an urban forest where nature always looms larger than the buildings downtown... It's a city that attracts people who don't want to subjugate nature so much as to exist together with it." At Pulliam Deffenbaugh Gallery, Anna Fidler's wild, craggy landscapes, fashioned out of construction paper and other materials that harken to childhood, are drawn in part from her girlhood fascination with the tide pools in Garibaldi, Oregon. Her dreamy Technicolor vistas, she says, owe their inspiration in equal measure to "Topanga Canyon in Southern California and the high desert of Eastern Oregon." Rochelle Koivunen portrayed a different kind of vista in her 2008 exhibition at Launch Pad. In her drawings and sculpture, a cadre of humans has survived nuclear Armageddon and learned at last that to continue as a species, they must honor nature. In the blooming that comes after the ashen winter, humans grow inextricably tied to flora and fauna via rope-like vines or tentacles.

Bruce Conkle, arguably the Northwest's preeminent eco-artist, pivots in his work between dystopian and utopian modes. He is known for his whimsical Bigfoot series and iconic melting snowman sculptures (made of real snow from Mount Hood), which presage global warming. In Friendlier Fire, his 2008 outing at Rocksbox, Conkle peered through the glass darkly and saw T.G.I. Doomsday, a Rube Goldberg-like installation that showed a desolated post-nuclear White House, its once-grand fireplace lit only by the flickering shadow of a propane burner. Yet Conkle maintains his vision of the future is not entirely bleak: "I'm skeptical of the future of our race, given the way things are going, but I am not a nihilist." In fact, like Koivunen, he sees a silver lining in environmental catastrophe, as in his colorful pencil drawing, New Beginning, in which a happy rainbow rings a mushroom cloud.

Conkle and Lucas continue this chipper, glass-half-full tack in projects they undertake in the collective they helm, Blinglab. The group espouses a style they dub "Eco-Baroque," a glittery fantasy world that, according to Conkle, incorporates motifs such as "rainbows, mounds and strands of moss, crystals, geodes, seashells, and honeycombs." In February 2009, Blinglab's exhibition Warlord Sun King at Marylhurst University's "Art Gym" riffed on Louis XIV-era extravagance, dolling up the gallery as Versailles' Hall of Mirrors, except with aluminum foil in lieu of mirrored panels and recycled paint instead of gilding. Ecology does not necessarily equal apocalypse, Blinglab suggests, nor must eco-art's earnestness curdle into the dour; there is wit, fun, and even eye candy to be had at the dawn of the Eco-Baroque.