young at art: 15 artists under 35
May 2008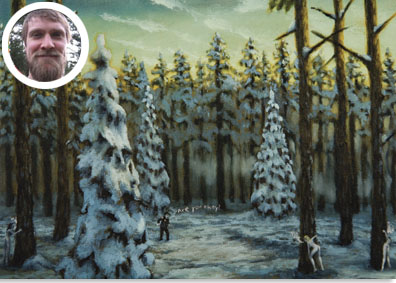 Dan Attoe, SW Washington
"Wood Nymphs and Officer," 2005
Oil on MDF Panel, "5 x 7"
Photo: Courtesy Peres Projects, Berlin Los Angeles

Dan Attoe lives in the wilds of Southwestern Washington, in a small cabin he shares with his wife and his 14-year-old pet tarantula. He draws and paints in the cabin's front room, which overlooks a beaver-dammed bend in the Washougal River. In this neck of the woods, cellphone service is so spotty that the artist has to step outside the cabin to pick up even the meagerest of signals. And yet from this mossy outpost, the artist, 33, creates artwork exhibited in far-flung locales such as London, Berlin, Athens, Naples, and Copenhagen.

Growing up in Northern Minnesota, and in Idaho on the periphery of Yellowstone National Park—his father worked for the U.S. Forest Service—he had early exposure to both the beauty of nature and "the wackos that inhabit the woods... The woods seem to breed eccentricity and isolation—they're a place for people who don't like people." At age 14 he began drawing and painting in a style he continues to evolve: a droll, lowbrow updating of Hudson River School landscapes and classic folk art, filtered through the prism of 1980s heavy metal magazines and rock album covers.
Fast-forward twenty-odd years, and Attoe, a grad student studying art at the University of Iowa, was plucked out of relative obscurity by star-making Los Angeles art dealer Javier Peres, whose Peres Projects began aggressively promoting his work internationally. "When I graduated," Attoe recalls, "Javier wanted me to move to L.A., and I flat-out refused. Having grown up in ranger stations and small towns, L.A. just didn't appeal to me."

Relocating to Washington instead, the artist continued his practice of making a painting a day, a practice he ceased in 2005 after seven years straight. His routine, however, has remained constant: up early in the morning, with two to three hours of doodling, drawing, and meditating on "whatever's on my mind—from political issues to social, cultural, and personal things." As the drawings develop, he scrawls text around them, often in cartoon-style thought balloons. This combination of image and text forms the basis for his paintings and the neon works which, with the help of a photo scanner and email, he has fabricated in London. With their cheekily vulgar imagery culled from biker and stripper culture, the pieces are among Attoe's most engaging, flickering with busty women adorned with star-shaped pasties, surrounded by aphorisms ranging from thoughtful ("You have more freedom than you're using") to absurdist ("It's all the same: potato chips, whiskey, sex abuse, Buddha, gun control, fate, cocaine, piece of ass...").

This summer, Attoe has solo outings at Peres Projects' Berlin gallery and the Museo de Leon in Northern Spain, as well as group shows at Saatchi (London) and the Portland Art Museum, where he is one of five contenders for a $10,000 juror's prize, to be awarded in the first annual Contemporary Northwest Art Awards. Jennifer Gately, who curated the PAM show, says that although Attoe's "depictions of nude women, seedy bars, and ragged male youth" may at first appear chauvinistic, "upon closer investigation, they are loaded with irony, humor, and a deep sensitivity to the human condition."

Dan Attoe is one of five artists in the Contemporary Northwest Art Awards at the Portland Art Museum. The show will run from June 14 - September 14, 2008. 1219 SW Park Ave., Portland, OR. (503) 226-2811 www.portlandartmuseum.org

He is represented in Los Angeles by Peres Projects, 969 Chung King Road, Los Angeles, CA. (213) 617.1100 www.peresprojects.com